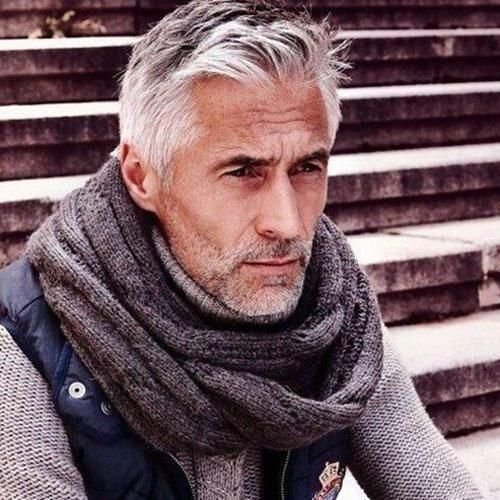 [td_block_ad_box spot_title="Advertisement" spot_id="custom_ad_1″]
Old Men Haircut Styles
As you get older, it can get tougher to try out a new 'do. You may think all the styles nowadays look too hip for you to pull off, but that's just not true. There are so many styles that look great on older guys- even some that look better the grayer you are. We are here to help you find the style of your dreams with this lovely list of hairstyles for older men. Get scrolling!
[td_block_ad_box spot_title="Advertisement" spot_id="custom_ad_2″]
Loose Pushed-Back Look
This loose pushed-back look with a medium fade is a great style for older men who still have some thick hair to work with. It screams 'silver fox' and is guaranteed to get all the lady's hearts racing.
Mixed Gray Tones Short Cut
This short simple cut is paired with mixed gray tones that help to give a unique look to your hair. It will help make your age look like the centerpiece of your 'do rather than just an additional factor to the look.
Pushed-Back Gentle Pompadour
This small pompadour is pushed-back to help create a dynamic look for any older man. The fade blends in with the pompadour so it's not as drastic as the usual style.
Sleek Combover With Drastic Undercut
This sleek combover comes complete with a drastic undercut that allows that top of the head to get even more attention. This look is perfect if you're trying to hide a receding hairline but still have some hair to play with.
White Classic Crew Cut
The crew cut will never go out of style. Why? Because it's an American staple that looks great on all men. It is simple and easy to style.
Long On Top With Deep Undercut
This haircut is a winner for all older men that have a little hair to work with still. It's a relaxed but professional look that allows you some extra style and flair.
Long Gray Locks
Who said gray can't be beautiful? This lovely long gray locks style is perfect for an older man with natural waves. It has a subtle side-part that helps break up this mass of hair, while also adding to its texture and flow.
Medium Top With Deep Undercut
This medium-length on the top is a great length for the guy who doesn't want to fuss over his hair ever morning. And, paired with the deep undercut, it's sure to keep you cool in the summer months.
Pushed To The Side Top With Fade
This pushed to the side top is complete with a gentle fade that allows the whole style to blend together nicely. This style is easily maintained and looks great on every man.
Fluffy Crew Cut
This longer-length crew cut is a great choice for any man. It's simple, easy to style, and looks good even in gray!
Side-Parted Combover
This side-parted combover looks polished and put-together even with a receding hairline. The side-part does a wonderful job of masking insecurities and draws attention to the thick combover portion of the hair.
Medium-Length Curls
These medium-length curls are to die for! What woman wouldn't want to run her fingers through those natural loops? If you have the curls to show-off, then definitely try out this style.
Pushed-Back Top With Faded Undercut And Beard
This pushed-back look is hip and stylish. And, it works for all ages! Pair it with a beard to make the whole rustic older man look come together just perfectly.
Gray Highlighted Medium Length Cut
This medium length cut is shown with natural curls for an overall casual look. To add some flair, put a lighter gray highlight in to help your hair be the best it can be.
Long Gray Layered Curls
This long hairstyle is a great idea for the man who has natural curls begging to be shown off. Throw some layers in there for a look that shapes your face and hides your age.
Side-Part With Subtle Fade
This medium length 'do features a side-part with a subtle fade. This style blends as one. So, if you're looking for a simple cut that's not drastic, this is the one for you.
Spiked Front With Gradual Fade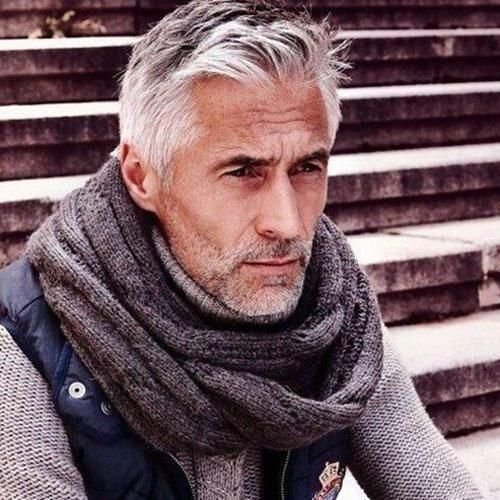 Just because it's spiked in the front, doesn't mean it's a drastic or dramatic look. The subtle fade covering the rest of the head allows the front to blend in perfectly for a polished look.
Long Curls With Side-Part
This shoulder-length curled cut comes complete with a side-part. This isn't a look for someone who hates having hair fall into their face. But, if you can put up with that nonsense, then this really is a cool style.
Pushed To The Side Pompadour
This pushed-to the side pompadour has a deep and drastic side-part that allows the face to gain new angles. It draws attention to the top of the head and away from your wrinkles.
Long Look For Receding Hair
This haircut is ideal for the man with lots of hair, BUT a receding hairline to accompany it. It draws attention away from the imperfections and focuses on the long locks of hair.
Messy Natural 'Do
Long And Pushed Back
Salt And Pepper Crew Cut
Short Style With Medium Fade
The Clooney
One Length Shades Of Gray
Short Curly Cut
All White With Blended Fade
Fresh Short Combover Cut
One-Length With Stubble
Spiked Naturally Frosted Tips
Piecey Subtle Side-Part
Medium Length Curls With No Part
Blended Side-Part
Naturally Stuck-Up With Blended Fade
[td_smart_list_end][td_block_ad_box spot_title="Advertisement" spot_id="custom_ad_3″]
When you get older, the haircuts that are acceptable seem limited. But, that's just not true. Look at this list- there are so many styles for older men to choose from!
There are basic crew cut styles that look great on anyone of any age. These styles are easy to manage and most men have enough hair to still create this look.
Then there are some pompadour styles that take a little more management, but they look stylish and chic. So, if you are in an office setting or a face of a company- then this may be more of the look you are searching for.
There are also some older men looks that embrace natural waves and curls. If you still have them to work with, then why not show them off? The more hair you have the more options there are for a stylish cut!
Hopefully, this list helped you find the style you've been searching for!