[td_block_ad_box spot_title="Advertisement" spot_id="custom_ad_1″]
David Beckham Top Haircuts and Hairstyles
David Beckham is not only known for his amazing soccer skills but also his amazing hair and fashion sense outside the field. We have seen him rocking short styles, long styles, and even fully shaved styles. Being married to the style icon herself Mrs. Victoria Beckham, he is no stranger to the fashion world and to trying new edgy and bold hairstyles. When he walks a red carpet he is always well dressed and clean cut.
We want to give you a look at Beckham's ever-evolving style over the course of the years. Here's our 21 favorite David Beckham hairstyles and haircuts that he has rocked throughout the years.
[td_block_ad_box spot_title="Advertisement" spot_id="custom_ad_2″]
Modern taper cut
One of his more famous styles is this modern tapered cut. This look is sleek and sexy and one that he caught wearing often. We love this look with the tamed beard and it could work either with a suit or just a simple t-shirt and jeans.
Half top-knot updo
We really love this cute samurai high bun style. Although this is an effortless look updo, This is not a look that every guy can pull off. The upper part is tied up on the top while the hair on the flanks and back is left to hang. Can we have a moment for his amazing eyebrows?
Mini Mohawk with bald sides
On the bold side of the Mohawk spectrum, we have a skinny spiked Mohawk. The sides are shaved bald which makes this smaller Mohawk pop and is definitely the focal point. The fact that he chose to wear his natural hair color really brought out his green olive eyes. Not many can pull this cut-off. If you have a heart-shaped face or strong bone structure then definitely give this look a try.
Basic cornrows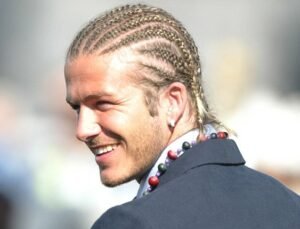 Seriously, who hasn't rocked cornrows? We love these super basic cornrows that Beckham decided to wear. Being that his hair was brown at the root and blonde on the tips at the time creates this ombre effect with the braids. These cornrows are forever stylish and we honestly think they are red carpet worthy.
Blonde Buzz Cut
Oh, my blonde! Of course, David can definitely pull off a short buzz cut fade. This style is super simple, but we love how his beard contrast against this bright platinum blonde color. Dying the facial hair blonde would have been way too clashing so the use of contrast definitely worked in his favor.
Long blonde hair with brown roots
Here we have more of a casual style. David has his locks pulled back by a simple headband. This style is very laid back as you can tell because of the "wet" hair look. This look because he reminds us of a surfer or a beach hottie. If you're into a really chill and laid back look then grab your favorite headband and hair gel and go for this look.
Neck length locks with middle part
Here is David rocking a natural wave neck length cut. This look is very young, fresh, and effortless. We love how it has different tones of blonde along with hints of dark brown.
Ombre curtains cut
Here we have a simple long layered cut. The top is a natural blonde and then goes into a chestnut brown. This brown looks like it has hints of red undertones. This is not your normal ombre because it does not gradually fade, it instead is more of a color block.
The simple ponytail
You cannot go wrong with a simple ponytail. Being a big time athlete throwing your hair in a simple ponytail is not only convenient but also super stylish. Men ponytails are a hair raising trend and have become so popular nowadays. Good thing Beckham never gave his up right?
Shaved spiky Mohawk
This is another variation of a Mohawk and is a little more mature. This Mohawk is very chic even with the completely shaved sides. The roots are a natural brown with minimal blonde highlights.
Low cut hair with shaved temples
Here we have a very unique original cut that we've actually never seen before. Beckham is sporting a low cut with only his temples shaved down. At first you may think, what on earth is he thinking but we really like the uniqueness and edgy-sexy look.
Spiked undercut
Here we have an undercut hairstyle of short spikes and simple trimmed sides. Beckham's undercut gradually fades and is completed with the front spiky edges on top. If you want to get creative dye it jet black and experiment with colored tips.
Modern Pompadour style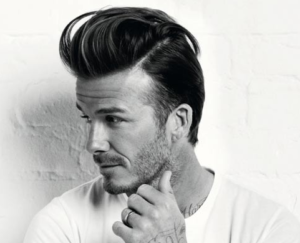 Here we have Beckham rocking an effortless and sexy modern pompadour haircut. The upper part of the hair is longer and high on top and the sides are shorter and trim. The trimmed edge in the back makes this look super sleek and classy.
Shaved down with minimal designs
We are used to seeing Beckham with gorgeous locks, But Here he switched it up and shaved his hair down completely. This looks definitely shows his bone structure and fits his athlete body. He added two simple lines on the side and also on his eyebrows to add a minimal design to the style. This look is maintenance-free and a great choice for the hot days of summer. Along with small diamond earings this look is a winner!
Side swept fringe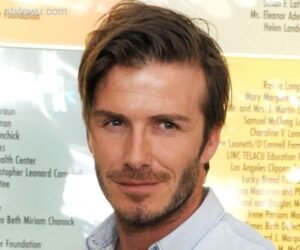 Here is a more dressy and dapper cut. This cut has a side part which allows the bang the fall to the side framing his face. The sides are tapered above the ear and the hair is swept naturally across his brow line to one side. This is such a simple and everyday look. If you want a simple style that also has a sexy vibe then give this style a try. Because of its minimal design this is sure to look great on any face shape.
Platinum blonde spike cut
Here is David rocking a more edgy cut. David has his hair dyed platinum blonde with brown roots which totally plays up this look. Experiment with different tones of blonde to find the perfect shade for your skin tone. If your style is super edgy or even minimal it will be super easy to style this hair style up or down.
Sexy Short Side Hairstyle
Messy layered light blonde cut with side parting bangs. Very sexy look that suits well with David's bone structure and natural colors.
High messy bun
Beckham sported the Men bun looks in different variation over the years, way before the style gained popularity in recent years. The high messy bun is certainly one of his most famous looks and probably our favorite one!
Comb over
This comb over cut has a very sophisticated and elegant look. The hair is back-combed and side parted with a puffy patch on top which makes this look sleek and supper classy.
High and back Side Ponytail
We love this super stylish look. Unlike the Samurai style, here we have 2 parted thin ponytails while the hair on the back is left to hang down. One ponytails is tied on the upper back and the other one is tied on lower back of the head.
Sexy Shag
We just love this shaggy haircut with a messy "bedroom" look. Somewhat messy but eminently manly!
[td_smart_list_end]
[td_block_ad_box spot_title="Advertisement" spot_id="custom_ad_3″]