[td_block_ad_box spot_title="Advertisement" spot_id="custom_ad_1″]
Top 22 Comb Over Hairstyles For Men
Popular among men in the '20s and '50s, comb over hairstyles have recently come back in style once again. A surprisingly versatile men's look, combed over hair is as popular among young professional men wearing tailored suits as it is with bearded and tattooed men with a more casual, edgy style. From the pages of high fashion magazines to lots of the men you meet in real life, comb over styles come in enough variety to suit different hair lengths, textures, and styling abilities. If you'd like to step up your style game, take a look at our top 20 comb over hairstyles, then get yourself to the nearest barbershop for a fresh comb over cut!
[td_block_ad_box spot_title="Advertisement" spot_id="custom_ad_2″]
Tapered Combover With Part
A simple tapered comb over haircut, this style features a sleek and shiny look and a well defined side part. Wear this style on a special occasion to impress your date or colleagues. Avoid using heavy products like gel that can cause hair to dry in a hard, crusty finish, and instead style with a water based pomade that gives strong hold with a softer finish.  
Subtle Comb Over
This more subtle comb over style is less defined, and perfect for upscale events or (if you're a celebrity) walking red carpets. If you're in a corporate field, this is a great way to remain stylish but more reserved.  
Messy Comb Up And Over
If you have a strong jawline and sharp cheekbones, try this sexy comb over style. Rather than being neatly combed into place, this messy style flips hair up and over, for the ultimate trendy bedhead hair.
Wavy Comb Over
Embracing hair's natural texture, this comb over proves that the style isn't only for straight-haired men. Use a relatively light product to keep hair in place without slicking it back, like a hair cream that's been specifically formulated for curly hair. Another trendy aspect to this look is the slightly scruffy beard that adds a touch of untamed masculinity to the polished comb over style.
High and Low Comb Over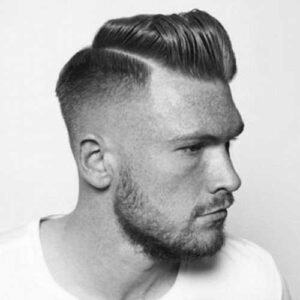 There are lots of different textures going on here, from the tapered sides, to defined part, and the perfectly in place high comb over. To get this slick look, add a volumizing product to wet hair before blow drying while brushing into comb over shape. Once hair is dry, add a strong holding product to prevent any stray strands from popping out of place and ruining this polished look.
Spiked Comb Over
This spiked comb over is a little more on the fun side, and adds the illusion of length to men with wider faces or square jaws. Style use a soft holding pomade to avoid hard and crunchy hair.
Super Sleek Comb Over
This more vintage comb over style looks straight out of the '50s with all of the longer hair on top combed straight back. To make the most of this style, you'll have to train hair out of falling forwards or into any part. Try immediately combing it back after washing, and wearing it pushed back at night in a bun or using a headband.
Combed Back Undercut
Another sleek and sexy style, this haircut mixes trendy combed back and undercut styles for the perfect modern look. If you've added color to your hair or it's been naturally lightened by the sun, this is a great style for showing off the contrast between shorter darker hair and the more blonde tones on top.
Half Shaved Comb Over Fade
This half shaved comb over style is a more drastic and edgy haircut that features a very high skin fade on one side of a defined part. The rest of hair is styled neatly into place for a military-meets-hipster look.  If you've been wearing a more traditional cut with gradually tapered or faded sides, refresh your look and step out of your comfort zone with this ultra undercut.
Connected Cut
Another slicked back style, this one is tapered towards the back to give a slight mohawk look without having long hair actually trail all the way down the back of the head. To get a wet styled look like this one, use a strong holding gel or oil based pomade for edgy, all day staying power.
Layered Cut
Here's a style for men who like combed over looks but aren't big fans of strong holding products and precisely polished styles. This layered cut has been softly combed back without any strong holding products keeping it tightly in place, and is a good way to thin out super thick hair that can feel unmanageable when it comes to styling.
Soft And Bouncy Comb Over Fade
This soft and bouncy style falls on the lighter side of masculine, giving hair some freedom to move instead of slicking it harshly into place. If you're after this look, avoid hard setting products like gels, and opt instead for a water based pomade or styling cream. Blow dry with a round brush or borrow one of your girlfriend's large rollers to get this dreamy curl shape in front.
Abstract Comb Over Haircut
Turn your hairstyle into a work of art with the precise lines and expert fading of this ultra dapper style. If you work in a creative or artistic field, take advantage of your ability to express your personal style in new and exciting ways.
Sharp Comb Over Undercut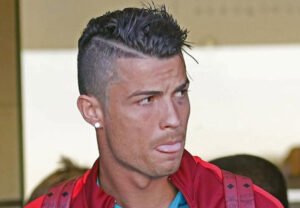 For men who don't want to spend hours perfecting their hair, this style features hair that's messily combed back, with lots of loose pieces falling out of place. The real star of this look is the high undercut section framed by a sharply defined part, giving tons of extra edge.
Curly Comb Over Fade
Have natural curls? Try styling them into this sexy comb over for a special night when you're looking to amp up your look. If you have two toned hair, this cut will give you an emphasized ombre effect. To keep your curls soft, use a water based product that will give your style definition without crunch, and don't wash too often to avoid damage and frizzing.
High Comb Over Fade
Jack Osbourne's combed back style creates a rectangular shape on top that balances out roundness in his cheeks. This haircut brings some vintage flair from the suedehead subculture to modern day dressed up looks. To get this strong hold slicked look, don't be afraid to use liberal amounts of a oil based pomade.
Platinum Blonde
Who else but a former boyband member to show us how to rock a platinum blonde comb over style? Lance Bass's bright hair color injects some much needed fun into a style that sometimes gets taken too seriously. If platinum isn't your shade, ask your stylist to try an ashy or golden blonde, or add semi-permanent dye in vibrant rainbow and pastel shades.
Slick Comb Over With Design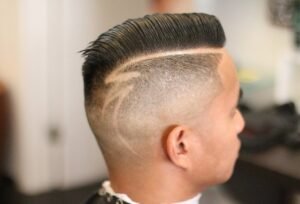 Want to add something more interesting to your existing comb over style? Line details and designs create endless possibilities for amping up your undercut, with some barbers being skilled enough to add your favorite team's logo. If you like this idea but don't want to look immature, go for an subtle artistic design or geometric pattern.
Side Part Folded Comb Over
David Beckham has been setting trends in men's hair for nearly two decades, and the comb over's recent popularity is another look he gets at least partial credit for. In classic Becks style, his version is the perfect mixture of clean sophistication and bad boy edge. As dapper as it is versatile, this haircut looks right at home with a suit and tie or jeans and a t-shirt.
Red Carpet Comb Over
We're used to seeing Channing Tatum in super short cuts, making this longer comb over look a nice style update on the ultra handsome leading man. This mature, put together style is one that you can use for your next special occasion, even if it doesn't involve you walking down a red carpet or presenting an award.
Super High Comb Over
If you've got medium length hair, try this sky high comb over style. This is a great marriage of polished and carefree looks, and hair retains lots of natural movement while remaining controlled by product.
Ivy League Comb Over
This high class style features a tapered Ivy League cut that's placed in a perfect comb over. While this look still takes cues from vintage comb over styles, it's not as hip looking as slicked back '20s style comb overs, and is probably the best hair choice if you'll be rubbing elbows with the upper crust.
[td_smart_list_end]
[td_block_ad_box spot_title="Advertisement" spot_id="custom_ad_3″]