[td_block_ad_box spot_title="Advertisement" spot_id="custom_ad_1″]
30 Hard Part Haircut Ideas
If you're a guy looking to add some sharp definition to his haircut, adding in a hard part (also known as a razor line) is a great way to attract attention and make your haircut look stylish, sharp and deliberate. By expertly shaving the part down to the scalp, a skilled barber can create a semi-permanent part (at least until your hair grows out) that's much more bold than simply parting hair with a comb. One of the best things about a hard part is that you can add one to almost any different haircut, making it an incredibly versatile detail. A hard part haircut does require frequent trips to the barber to keep it looking sharp, and this precision work is best left to a professional barber. If you're looking for a new way to show off your modern, dapper style, check out 30 of our favorite hard part haircuts!
[td_block_ad_box spot_title="Advertisement" spot_id="custom_ad_2″]
Vintage Hard Part Comb Over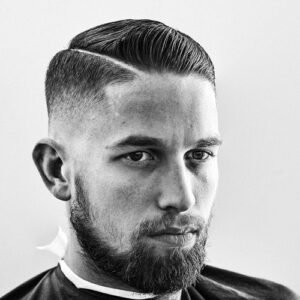 With well controlled comb over styling and sharply faded sides, this hard part haircut is the perfect blend of vintage aesthetics and modern trend. To get your hair looking this crisp, use a strong hold pomade and a comb to set hair perfectly in place.
Slicked Back Long Hair With Hard Part
For hair that's longer on top, a hard part detail makes it possible to slick hair back while retaining a clearly marked part. While longer hair can make for an awkward growing out period if you're tired of having a hard part cut, you can always part your hair in the opposite direction to hide this section as it grows out.
High Fade With Hard Part
Even with a very short haircut where a part isn't actually changing the direction your hair is facing, a hard part is a nice way to add crisp detail.
Subtle Hard Part Haircut
With a subtle hard part that only extends midway towards the back of the head, this classic haircut gets an extra dose of style while maintaining an air of professionalism. We love this starter style for any guy looking to try out this look for the first time.
Flat Top Brush Up With Hard Part
Guys with thicker hair can get this brush up style with the right combination of hair products and blow drying. Apply a volumizing mousse to damp hair and blow dry using an upward motion to give hair lots of lift. Finish with a small amount of a defining product (like styling cream or texturizing paste), and top with hairspray for maximum hold.
Comb Over Fade With Hard Part Dapper Hairstyle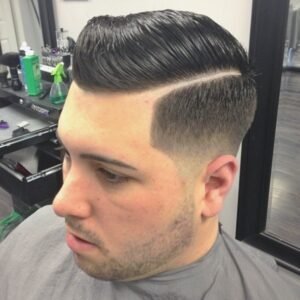 Take your comb over style to the next level with the bold detail of a shaved hard part.
If you like classic dapper hairstyles with a modern touch, this cut is a great option.
Long On Top Hard Part Haircut
Although the classic hard part haircut is a shorter combover style, the razor line detail works just as well with this longer, trendy haircut.
Fade With Mini Hard Part
This short razor line creates definition in hair that's too short to part, and is just one of many perfectly executed details in this fresh fade haircut.
Hard Part With Sculpted Quiff Style
This haircut leaves hair short and tapered at the sides, but is long enough on top to execute a seriously impressive sculpted quiff look.
Skin Fade Side With Hard Part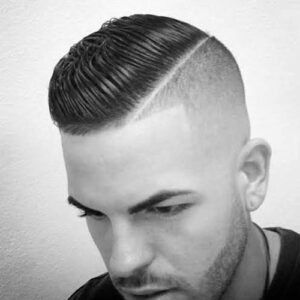 With a high and tight skin fade right up to a hard part, this haircut means you only need to worry about styling the top section of your hair. Style with a comb and a strong hold pomade to recreate this sharply controlled look.
Rockabilly Hard Part Pompadour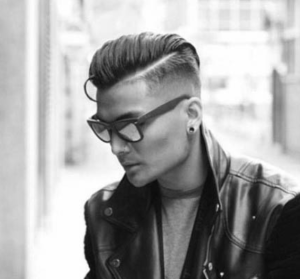 This hard part haircut mixes modern faded sides with the vintage charm of a slicked back pompadour. Pair with a leather jacket for the ultimate cool-guy style, or wear this haircut with a shirt and tie to bring some edge to your business-casual daywear.
Natural Curls With Hard Part
The texture in these natural curls is balanced with sharply faded sides, while a hard part provides extra definition in this artsy, asymmetrical haircut.
Hard Part With Comb Over Skin Fade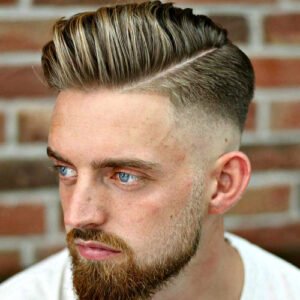 This hard part haircut shows how a razor line detail is the perfect enhancement to comb over styles.
Hard Part Haircut For Wavy Hair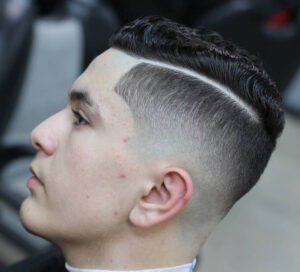 With longer hair on top swept to one side of a hard part, this haircut blends natural texture with cleanly faded sides.
Diagonal Hard Part Haircut
For men with a receding hairline, a hard part that's directed diagonally towards the crown of the head helps to section hair in a way that maximizes volume.
Slim Hard Part With Low Fade
This slim hard part creates definition without overpowering the style, adding a nice finishing touch to a classic low fade haircut that looks good on almost everyone.
Buzz Cut With Hard Part
Add a little extra detail to a faded buzz cut with a hard part detail. When the rest of your hair is this short, a razor line is easy to grow out, making this a nice low-commitment look.
Thick Combover Dapper Hairstyle
Thick hair helps to give this comb over style incredible structure, while a hard part separates the longer pieces on top from shorter faded sides.
Natural Curls With Centre Hard Part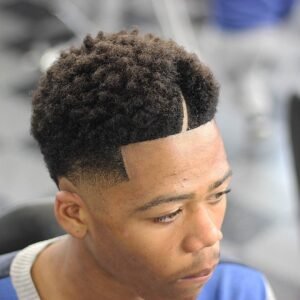 This hard part haircut is unique thanks to its razor line detail being placed in the centre of the head instead of off to one side. While middle parts for guys might not be a major trend right now, this look works thanks to natural curls that the part can disappear into.
Thick Textured Style With Hard Part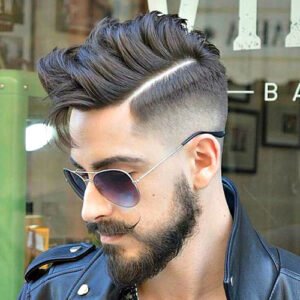 If you have trouble styling your thick hair in a particular direction, try using a hard part to control your hair's movement while providing added visual detail.
Sculpted Hard Part Haircut
With a super sculpted style on both sides, this hard part works to create two distinct shapes, making the finished product look like a work of art.
Soft Sweep With Hard Part
This hard part haircut keeps things simple with softly swept hair on top, and is much more low-key than many of the meticulously styled comb-overs we're used to seeing. The part itself adds subtle detail without overwhelming this style, meaning it won't look out of place with athletic wear or a suit and tie.
Hard Part Pompadour Haircut
This pompadour haircut doesn't look out of place in a modern setting thanks to tapered sides that don't need to be slicked into place. With the back and sides nice and short, you can spend your time styling the longer hair on top into this picture-perfect pompadour style. While heavy, oil-based pomades may have been popular in the '50s, we recommend something a little softer that will hold hair in place without making it look greasy.
Hard Part Flat Top With Step
The hard part is an essential part of this flat top haircut, as it creates the definition between the sections of different heights, usually referred to as a "step". Keeping your hard part freshly shaved is important in any haircut where it's featured, but it's even more crucial in a cut like this where the razor line is the star of the show.
Long Curly Cut With Hard Part
We may be more used to seeing a hard part detail with straight, slickly styled hair, but there's no reason why it can't work equally well as part of a curly look. In this particular haircut, faded sides and the distinct hard part help to bring balance and control to the wild curls on top, making this longer look clean and professional enough for any occasion.
Vintage Style Hard Part Dapper Hairstyle
With a hard part close to the middle of the head and hair combed over on either side of the razor line detail, this vintage looking haircut takes us back to the dapper decades following the turn of the 20th century.
Ultra Hip Hard Part Haircut
This hard part haircut is hipster styling done to perfection. A closely groomed beard and waxed moustache embrace facial hair trends without an ounce of sloppy styling, while the haircut uses the shorter sides and long-on-top silhouette that's been dominating men's haircuts. Throw in a hard part and some artistic coloring choices, and you've got the bold execution of a bevy of top trends.
Curved Flat Top Haircut
Looking to get a little geometric asymmetry in your flat top haircut? This curved cut takes hair artistry to the next level, resulting in a surprisingly wearable style. The hard part detail is the cherry on top of this style: you could go without it, but why?
Slicked Style With Bald Sides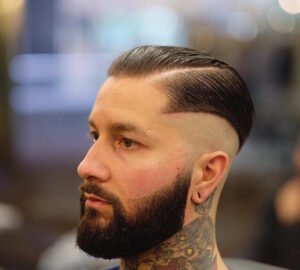 Bringing the bald-sided style to a new place, this haircut features slicked hair on either side of a hard part, while abruptly shaved sides provide a drastic contrast. The overall look is sharp, slick, and edgy done right.
Hard Park Faux Hawk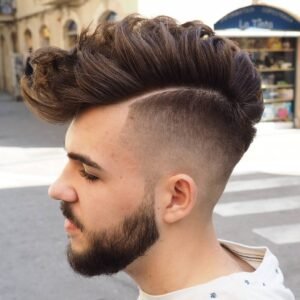 This over-the-top style gets an extra dose of precision with a hard part that perfectly borders the faux hawk.
[td_smart_list_end]
[td_block_ad_box spot_title="Advertisement" spot_id="custom_ad_3″]