[td_block_ad_box spot_title="Advertisement" spot_id="custom_ad_1″]
Hairstyles For Men With Curly Hair
Maintaining curly hair can be daunting, so men with curly hair often choose to go for a super short style that requires zero styling and maintenance. But for men who choose to embrace their hair's natural texture, there are a ton of curly hairstyles to choose from. Low maintenance guys can go for styles that combine curls on top with much shorter faded sides, while guys who are willing to invest in curl-specific products and styling techniques can be rewarded with a long head full of luscious curls. No matter which camp you fall in, we know at least one of these curly hairstyles will help you feel lucky to have been born with a head full of curls.
[td_block_ad_box spot_title="Advertisement" spot_id="custom_ad_2″]
Kinky Curls Taper Cut
Tapering in length both down the sides and from front to back, this curly hairstyle is great for men with a fairly tight curl pattern.
Classic Curly Cut
Keep it simple with this classic cut that allows you to show off your curly hair without requiring too much time or product to go from bed-head to business casual.
Dramatic Curls With Undercut
Mix an ultra trendy undercut with a long mop of dramatic curls and you'll be able to show off your textured hair and personal style at the same time.
Mid Length Wild Curls
Pair your scruffy beard and mid-length hairstyle full of wild curls with well-tailored clothing to strike the perfect blend between wilderness enthusiast and dapper gentleman.
Thick Curls Taper Cut
Control your thick curls without keeping them hidden with this taper cut that leaves longer hair concentrated at the very top of the head near the hairline. Not only does this hairstyle make your curly hair easier to style and manage, but it allows longer pieces to be styled over the forehead for extra flair.
Temple Fade With Natural Curls
With faded temples and a crisply defined hairline, this haircut offers a great way to wear your hair long enough to show off natural curls while still looking clean and presentable.
Square Cut With Curls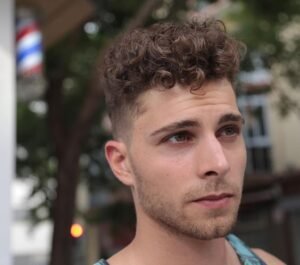 This curly hairstyle works with hair's natural texture to create a squared-off shape that helps to lengthen and slim the appearance of the face. Depending on how thick your hair is, using a mousse or other volumizing product can help your hair keep its shape and resist falling flat halfway through the day.
Short Style For Thick Waves
This hairstyle is short enough to be manageable, but works well for guys with thick waves that don't begin to show their texture until hair is at least a few inches long.
Mid Length Curly Cut
Showing off your curly hair from every angle, this mid length hairstyle has an ultra youthful vibe that's perfect for guys in their teens or early twenties.
Mid Length Cut For Tight Curls
It takes some serious commitment to grow your natural curls this long, but practicing proper hair care is worth it to get this bold curly hairstyle. To keep your hair from becoming shapeless and difficult to manage, be sure to get regular trims from a stylist who has experience working with your specific curl pattern.
Tousled Layers
This effortlessly cool hairstyle for curly-haired men was created using soft layers that frame the face and give hair plenty of room to play. Take a "less is more" styling approach by pushing hair away from the face with a light hold product that still allows for plenty of movement.
Shoulder Grazing Curls
Make the most of your curly hair by growing your locks out to a shoulder-grazing style. To keep your longer curls from looking frizzy, try adding a leave-in conditioner into your shower routine, and never try to rub your hair dry with a towel.
Curls With Hard Part And Fade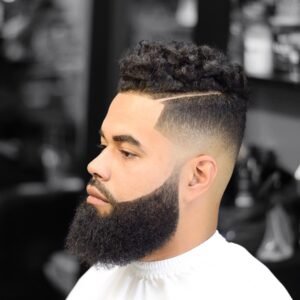 Looking for a hairstyle that shows off your curly hair and is infused with a dose of vintage charm? The fade and hard part in this trendy hairstyle help to make natural curls look slick and trendy.
Long Curls
If you're thinking about growing your curls out into a longer, sultry style, be prepared to do a little more maintenance and receive a lot more attention!
Curly Quiff
With longer hair on top styled playfully forward, this curly version of a quiff style is a perfect blend of fun and masculine. Tapered sides help keep this curly hairstyle from being too high maintenance, and you could easily upgrade to an undercut for added edge.
Mohawk Fade
Although guys with straight strands can still wear a mohawk fade hairstyle, the silhouette seems especially effective at playing up the contrast between faded sides and curly hair. If you're all about the extra touches, have your barber add in these razor line details.
Dapper Curls
Men with a more loose curl pattern can look incredibly dapper in a mid-length hairstyle that allows the hair to be swept away from the face. Although this hairstyle might look effortless, you might find yourself walking a fine line between too much product and not enough.
Curls With Fade And Line-Up
Mixing carefree curls with expertly faded sides and a slick line-up, this is the perfect curly hairstyle for young men who are trying to strike a balance between looking professional and keeping up with trends.
Ultra Long Curls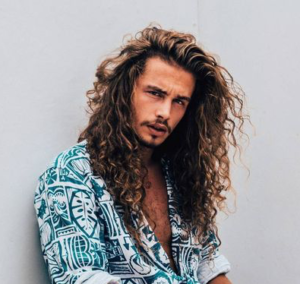 Whether you live near the beach or you're completely landlocked, these ultra long curls ooze relaxed, surfer vibes. To keep your curls this long and in good condition, use detangling and moisturizing products, and go for regular trims to keep your long hair manageable.
Curls With Skin Fade
Combining curls on top with a skin fade around the back and sides, this curly hairstyle is perfect for modern men who want to look clean and professional with a bit of an edge. As an added bonus, this hairstyle will instantly slim the appearance of your face, making it a great option for men with fuller cheeks or round faces.
Sponge Curls Style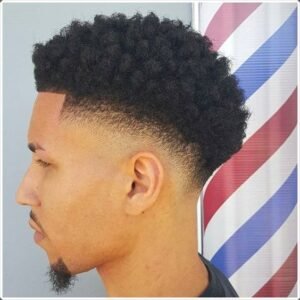 Getting this great texture to your short natural curls can be as simple using a deceptively simple tool called a curl sponge. Once you've applied a holding product to your damp hair, rubbing the curl sponge on your head in a circular motion will produce curls with depth and definition in just a few minutes.
Long Curls Man Bun
On days when your ultra long curls aren't behaving, a bun hairstyle offers a practical yet stylish way to tame your mane.
Curly Crop With Drop Fade
The fade in this curly hairstyle drops around the back of the head, making it a great option for men who are trying to camouflage an irregular head shape.
Long Top Curls With Fade
The longer section left on top of this curly hairstyle has been expertly shaped so that it falls perfectly in the space between the eye and ear. If you're planning on trying out this avant garde hairstyle, be sure to go for frequent trims to keep it looking artfully elegant.
Curly Ivy League Style
If you're looking for an easy hairstyle that will give just a hint of your hair's natural texture, the ivy league is a classic style that works for almost anyone. Leaving hair two to three inches long on top, this hairstyle gradually tapers in length down the back and sides which makes for a professional look that's clean around the edges.
Parted Curls
Love a mid-length curly style but hate to look unkempt or disheveled? Training a part into your hair with consistent styling and product use can help to give structure to your luscious curls.
Asymmetrical Curly Hairstyle
A bold new way to wear your hair both long and short, this asymmetrical style combines an undercut with dramatically longer hair on top. Leaving hair long enough on top to tie into a bun or secure in a braided style will help to make this unique hairstyle manageable on days when you're too busy to look this fashionable.
Slicked Curly Hairstyle
If you're a modern man with vintage charm, try slicking your curls back with just enough styling to hold them in place, but not so much that they lose all appearance of texture. We recommend styling with a wide tooth comb or just your fingers to keep your curls from disappearing completely.
Curly Blunt Cut
Guys with curly hair that's relatively fine can wear their hair in longer hairstyles that have little to no layering. Growing your fine curls super long could lead to your hair looking stringy, but this above-the-shoulder blunt cut will be the perfect length for most curly, fine-haired guys.
Short Asymmetrical Curls
We tend to think of asymmetrical styles as needing to be super dramatic, but Penn Badgley's pictured style proves that even a short taper cut can benefit from a bold sweep of curls.
[td_smart_list_end]
[td_block_ad_box spot_title="Advertisement" spot_id="custom_ad_3″]