[td_block_ad_box spot_title="Advertisement" spot_id="custom_ad_1″]
30 Best Hairstyles For Men
Women's hairstyles may get more attention in entertainment and magazines, but in many situations hairstyles for men are equally important. A good, classic hairstyle can project confidence and maturity, while highlighting facial features with clean, sharp lines. For younger men, the right hairstyle can make or break you, and paying attention to trends show your cultural awareness and eye for detail. For men who have never felt confident in their hair, the right cut (and stylist) can change not only how other people see you, but you see yourself. To show you just how many great hair options men have, we made a list of the 30 best hairstyles for men.
[td_block_ad_box spot_title="Advertisement" spot_id="custom_ad_2″]
Dapper Crew Cut
Anderson Cooper is almost as well known for his perfect silver hair as his journalism, which has a lot to do with the stylish crew cut he's usually sporting. This short style is clean and professional looking, and is an especially good choice for men with thinning hair.
Classic Fade
With clean lines all around and an expertly executed fade, this style is a modern classic. To achieve the perfect fade cut, you'll need to find a skilled barber you trust. Once you've got the right cut, you'll be rewarded with a clean look that requires little to no styling time.
Square Cut
If you're looking for a clean-cut style that's a little longer than a crew cut, a square cut might be for you. Typically cut all one length but with some shaping to create straight lines around the hairline, you should freshen this style every six weeks to keep it from looking sloppy.
Soft Parted Style
We can't guarantee you'll look as good as Chris Pine, but this soft parted taper cut will give you manageable hair that looks professional but not stuffy.
Diagonal Fade Cut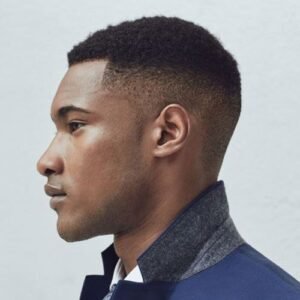 This clean look features a high fade that's slightly diagonal, while hair on top is left long enough to display some natural texture.
Slicked Back With High Fade
Although this daring style may not be for everyone, it's great for men in creative professions who are looking for an edgy mix of modern and vintage elements. Besides being trendy, the high faded sides mean that you only need to worry about styling one section of hair, making the process of slicking it back less daunting and time consuming.
Mid Length Layer Cut
If you've grown your hair out longer without getting regular trims, you probably found it looked messy and shapeless. Adding layers into mid length hair will give your style shape while eliminating extra bulk for men with thick hair. We love that Bradley Cooper's style here is long enough for hair to curl in the back, while still looking dapper and put together.
Classic Crew Cut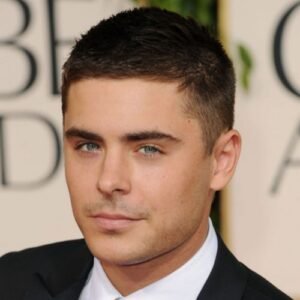 This more classic version of the crew cut is fairly short in front, and is styled with some product to create a a very professional, almost military feel. If you're noticing your hair is starting to thin, we'd recommend sticking with a shorter style like this one, as longer hair can end up looking stringy.
Buzz Cut
For many men, this super short look is about avoiding having to style their hair, but it can also be a deliberate style choice if you'd like to look edgy but not overly alternative. If you've got a job that sees you wearing a helmet throughout the day, you'll find you stay cooler while you're working, and won't suffer from helmet hair at the end of the day.
Parted Layered Style
Long enough to tuck behind the ears but too short to put in a ponytail, this layered style is perfect for experimenting with soft highlights, and features a messy part that adds some movement.
Asymmetrical Cut
While the word "asymmetrical" might have you thinking of an edgy, alternative style, it's a great way to wear hair that's longer on top and parted at one side. The shorter side of this style features some undercutting to keep things looking clean but artistic.
Wavy Style
Patrick Dempsey is one of the few men with truly iconic hair, and his wavy style is an excellent choice for men who want to show off the natural texture in their hair.
Parted Vintage Style
This parted look is a classic gentleman's style, and doesn't require too much styling time or tools beyond a lightweight styling cream or texturizing paste.
Curly Taper Cut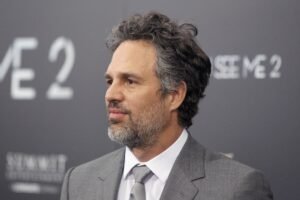 Tapered slightly at the back and sides, this style keeps curly hair manageable while maintaining a free spirited vibe.
Long On Top Undercut
The current "it" hairstyle for men, this undercut is as flattering as it is trendy. By keeping hair closely shaved at the sides, the face appears longer and slimmer, making cheekbones and jawline look more defined and instantly slimming your face.
Ivy League
A longer version of the crew cut, the Ivy League style is a classic men's haircut that leaves a little more room to play with styling elements.
Taper Cut With Sculpted Part
This vintage style for men with curly hair actually cuts a part into the hair, adding dimension and movement to tight knit curls.
Shoulder Length Layers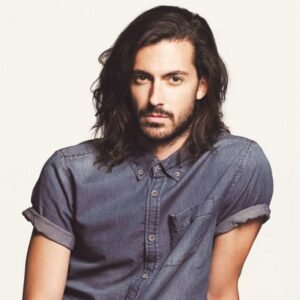 If you're daring enough to grow your hair long, we'd recommend going for a layered cut like this one. It leaves enough room to show off natural waves, and is great for eliminating bulk that comes along with having long, thick hair.
Wild Curls
After his explosion in popularity playing Jon Snow in Game Of Thrones, Kit Harington's hair has become almost as famous as his role in the hit show. His curls have been cut with some layers to help make them manageable, but this style is still a little on the wild side.
Long On Top Curls
This tapered cut offers up the best of both worlds for curly haired men who want to leave hair long enough to show off its texture, but short enough that styling is kept simple. Adding some asymmetry allows for a more dramatic lock of curls to fall on the forehead, but isn't necessary if you're wanting to keep this look more straight laced.
Slicked Back
The slicked back look can be a little intense for everyday wear, but it's an interesting option on days when you're looking to change up your style without actually going for a haircut. Styling technique is important, and we'd recommend a strong hold pomade instead of gel that can look dry and flaky when used in large amounts.
Parted Comb Over
Master of dapper style, David Beckham's parted comb over is the perfect way for men to look trendy and professional at the same time. To get your comb over just right, blow dry hair into place before finishing with a styling cream or texturizing paste that provides some hold while still allowing hair to move.
Swept Back Wavy Layer Cut
Great for any guy who wants his hair just a little on the longer side, or as an in between style for those growing their hair long, this wavy layer cut is right on trend for the increasing popularity in scruffy styles.
Businessman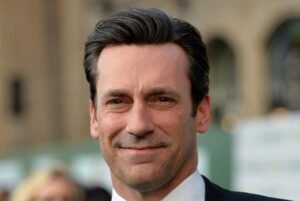 A longer taper cut, this is another classic style that always imparts an air of professional confidence. If you don't want to look too professional, you can pull off this haircut with messier styling and a mix of casual and tailored clothing.
High And Tight With Shaved Part
Combining the short length and easy styling of a crew cut wit the modern trend appeal of shaved back and sides, this high and tight style looks great on almost everyone.
Surfer Layers
For straight haired men who want to go a little longer, this layered look gives off a laid back, surfer feel, but still looks great with a suit and tie.
Pompadour Undercut
Wearing your throwback pompadour with an undercut is the best way to mix modern and vintage styles. This look is easiest to pull off for men with straight hair of average thickness, as thin hair can look patchy when grown longer, and super coarse hair can be difficult to keep styled in place.
Classic Short Curls
For men who aren't into the currently trendy undercuts and fades, this classic curly cut keeps things short and neat, and your style won't feel dated when you look back in ten years from now.
Short And Tousled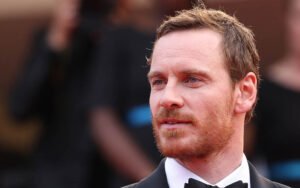 This simple, short style is cut to a similar length all over, for an alternative to short staples like the crew cut. To prevent this tousled style from looking messy, hair should be kept around one inch long, with some cleaning up done around the ears and at the nape of the neck.
Caesar Cut
With longer hair on top that forms a straight line across the forehead, the Caesar cut has seen on and off trend status over the past few decades. When styled with a minimal amount of product, this is a versatile look that works in both casual and professional settings.
[td_smart_list_end]
[td_block_ad_box spot_title="Advertisement" spot_id="custom_ad_3″]