[td_block_ad_box spot_title="Advertisement" spot_id="custom_ad_1″]
Blowout Haircut Inspiration
In the world of men's hair, a blowout haircut features much shorter hair at the temples and often the neck, sometimes forming a band all around the hairline. Unlike a typical faded style where hair tapers gradually, a blowout cut features a dramatic contrast between these shorter sections and the longer hair surrounding them, so that the finished product will leave you looking like your hair has been blown away from your face. Some people refer to the blowout haircut as a Brooklyn blowout or a temple fade, and the terms can be used interchangeably in most places. Either way it's a great option if you're looking for a creative style to help you stand out in a crowd.
[td_block_ad_box spot_title="Advertisement" spot_id="custom_ad_2″]
Blowout Haircut With Lineup And Natural Curls
Do you love wearing your natural curls on the longer side, but hate when your style looks messy or gets in your face? This blowout haircut uses faded temples and a lineup at the hairline to create a distinct frame around the face before hair dramatically increases in length to show off natural curls.
Classic Temple Fade Blowout Hair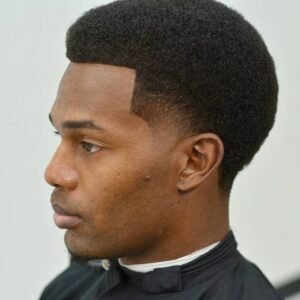 If you've got a tighter curl pattern to your hair, try a blowout haircut that's faded at the temples and neck while longer hair is cut with a classic rounded shape.
Low-Key Blowout Haircut
This blowout haircut has a band of faded hair that wraps from the temples around to the back of the head, and longer hair on top has been styled with a curl sponge to give it extra defined texture.
The Pauly D Blowout Cut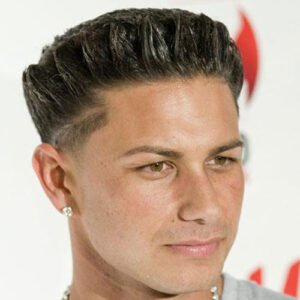 While DJ Pauly D is no longer riding the wave of reality TV fame, he might still come to mind when you think of the blowout haircut. With his signature style cemented in place with product, the Pauly D blowout probably inspired as many sincere style copycats as it did Halloween costumes.
High Volume Blowout Haircut With Color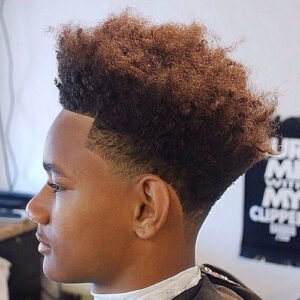 Looking like the hi-top version of a blowout haircut, this high volume cut is smoothly controlled around the sides while still allowing natural texture some room to play up top. A little bit of color is added up top, and guys with longer hair might feel more inclined to experiment with color, since it's easy enough to cut your hair shorter if you're tired of the new shade.
Wavy Blowout Haircut
To achieve this windswept blowout haircut look, use a blow dryer to direct your hair backwards, then finish with a light touch of pomade or texturizing paste to help add definition.
Textured Afro Blowout Haircut
With its smoothly faded temples and soft texture on top, this high volume blowout haircut hits all of the high notes.
Super Spiked Blowout Cut
This spiky blowout style makes use of a strong hold product to get it locked in place all day. In addition to a temple fade, a sharply defined hairline helps to frame the face.
Vintage Temple Fade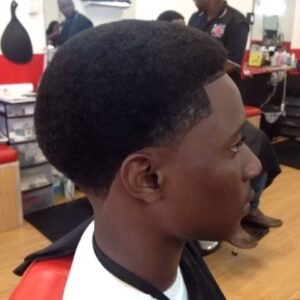 If you're looking to go old school with your temple fade blowout haircut, try this rounded style with a low-key but classic looking fade at the temples and back of the neck.
Curl Sponge Twists Blowout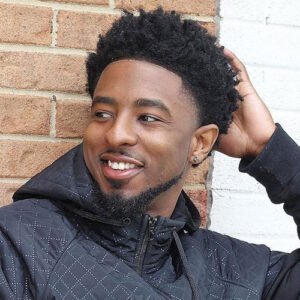 You can add some extra texture to your natural curls by using a curl sponge to create defined twists. It's a perfect styling method to try with a blowout haircut that lets you keep you hair long enough on top to make the curl sponge an effective styling tool.
Blowout Mohawk
A hybrid cut between a blowout and a mohawk fade, this style extends the faded patches at the temples to extend higher up on the head and also slightly behind the ears. Add a razor line on one or both sides for added detail, or go without it for a more smooth and sophisticated style.
Thick Curls Blowout Haircut
This blowout haircut features a band of faded hair all the way around hairline, and you can keep this section frequently trimmed even if you decide to grow the rest of your hair out longer.
Mini Temple Fade
With a very low fade at the temples and the nape of the neck, this blowout haircut is one of the more subtle styles on our list. And with longer hair on top only about one or two inches long, getting this spiked styling won't take up too much of your time in the morning.
Mid Length Blowout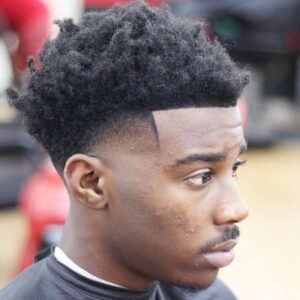 Keep things simple with a modern blowout haircut to frame your mid length curls. If you're looking for a perfect mix of stylish looks and easy upkeep, this blowout haircut could be your next signature style.
Slick Spikes Brooklyn Blowout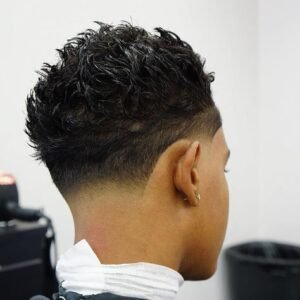 The fade at the neck on this Brooklyn blowout haircut is higher than most, making it easier to style these slicked spikes in an upward direction.
Tight Blowout Haircut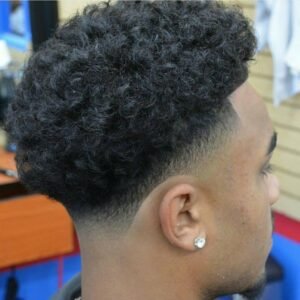 With a tightly faded section wrapping around the back and sides of the head, this blowout haircut will let you go longer in between trims, and will keep your hair looking neat even on days when you don't have much time to style it.
Blowout With Red Highlights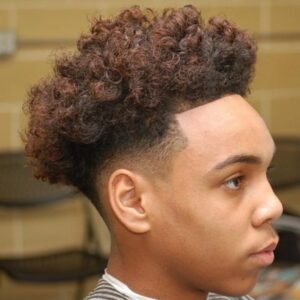 Lots of highlights on guys don't take into account placement or curl pattern, making them look amateur at best and disastrous at worst. But the red highlights accompanying this blowout haircut hit all the right notes by accenting curls with just the right amount of contrasting color.
Hairline Temple Fade
This blowout haircut has a faded section that wraps around the front from one temple to the other but keeps things more low-key in the back, making it perfect for guys who like a well-defined lineup in front but don't want to go for the full 360 degree blowout effect.
Thick Curls Brooklyn Blowout
If you have thick curls, a Brooklyn blowout haircut offers the perfect opportunity to wear your hair on the longer side without it looking messy or crazy. The pictured style is an excellent example of expert fading at the temples and back of the neck without quite connecting the two areas with a wraparound fade.
Blonde High Blowout Style
Looking like a cross between a mid fade style and a classic blowout haircut, this cut gets enhanced by blonde highlights at the tips of its defined twisted curls. Depending on how light you want you hair to be, you'll probably have to go through multiple lightening sessions to lift your natural color without damaging your hair, and you should be prepared to spend a month or two at an in between shade.
Temple Fade With Beard
While some guys like to wear their beards scruffy and untamed, well-groomed men can include their facial hair in their style considerations. The blowout haircut is a great choice for guys who like to keep their beard looking suave, because you can incorporate your facial hair into your blowout by transitioning the temple fade into your beard. If you didn't have a beard already, this might inspire you to start growing yours out.
Straight Temple Fade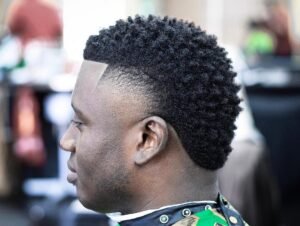 If you don't want a fade to wrap around the back of your head, wear your blowout haircut strictly faded at the temples. To keep things looking neat and stylish, hair at the back of the neck is still expertly shaped without being tapered right down to the skin.
Mega Waves Blowout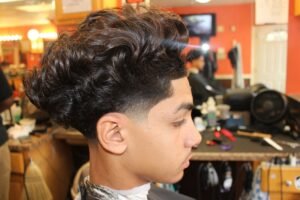 This Brooklyn blowout haircut shows an extra impressive styling feat, with waves that are styled up and back without looking locked in place with a ton of product. To get this look on your own, apply a volumizing mousse to damp hair, concentrating on the roots, then blow-dry hair in an upwards motion while using a round brush to help create definition. Depending on how long your hair is, blowdrying with your head upside down can help to add volume too. Once your hair is dry, use a product like a texturizing paste or firm hold pomade to add definition without that crusted gel finish. If you're looking for maximum hold on a longer blowout haircut, don't be afraid to finish it off with some hairspray.
Subtle Blowout
This very subtle blowout haircut fades hair at the temples and back of the neck without going right down to the skin. Perfect for guys who want to try out the blowout look without going full blast, or those who aren't fans of fades that blend right into the skin.
Blowout With Razor Line
If you've been wearing a blowout haircut for a while and you're looking for ways to make the style feel fresh, try adding a razor line near the middle of the head to divide your curls and add definition without changing the look of your signature style too much.
Tapered Blowout
This blowout haircut has a more subtle shape than most of the other styles on our list, as the hair tapers more gradually up the back and sides of the head. Still featuring skin fading at the temples and nape of the neck, this is a good started blowout haircut for guys who are just getting started with the style.
[td_smart_list_end]
[td_block_ad_box spot_title="Advertisement" spot_id="custom_ad_3″]