[td_block_ad_box spot_title="Advertisement" spot_id="custom_ad_1″]
Braid Styles for Men: Top 20 Man Braids Ideas
When long hair for men came back in trend, the man bun hairstyle wasn't far behind. This adaptation of a traditionally female style angered some people, while others championed it as helping to break down traditional gender stereotypes. Building on that momentum, the hottest new hair trend for men are braided hairstyles. Anyone whose hair is long enough to braid can get in on this fresh new look. If you don't know how to braid, we bet you know someone who can do it for you, or better yet, teach you a skill that most girls have mastered by the time they hit puberty. Get inspired with these 20 awesome braids for men.
[td_block_ad_box spot_title="Advertisement" spot_id="custom_ad_2″]
Man Undercut With French Braid 
Proof that you don't need long hair to wear a man braid! This slim braid adds a dash of extra interest to the hugely popular undercut hairstyle. Hair only needs to be a few inches long to style in a french braid like this, but you'll have more luck securing the braid if you dampen your hair and use a sticky product that keeps the ends of hairs from popping out of the braid. If you wear the top of your hair to one side, a single french braid at your part is a nice touch to dress up your hair, and if you like to slick your hair straight back you could try adding another braid on either side.
ASAP Rocky Braids: Messy Men Braids Pulled Back
One of the hottest names in hip hop, A$AP Rocky is almost as well known for his style as his music. This look features his signature braids pulled back into a ponytail. Part of the charm here is the messy quality of braids that have been allowed to grow out a bit, blurring the sections of hair that make up each braid.
French Braided Bun With Undercut for Guys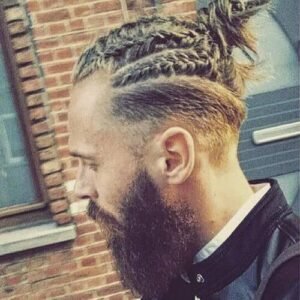 Long hair, an undercut, and a beard already check off so many boxes on the hipster style list, you might think adding braids would be overkill. It's not! The whole point of growing longer hair is that it allows you to be more expressive, more versatile, and most importantly to have more fun. This man braids style features five or six smaller french braids that are then collected in a top knot, also known as a "man bun". In addition to looking great, braids like this are a practical way to keep long hair secured while running or playing sports, and will last much longer than a regular bun or ponytail.
Simple Long Man Braid
Evoking historical looks like the Chinese queue, or the braid of a British naval officer, this simple man braid style features long, sleek hair, pulled back into a single thick braid. While some pieces have been allowed to slip out of the braid, the overall look is simple, polished, and provides a nice contrast to the more rugged beard.
Reverse French Braid Into Bun
This is a reverse french braid in more than one way. The braiding technique itself, which involves wrapping hair underneath your braid rather than over, creates a french braid that appears to pop out from the rest of the hair. It's also originating from the nape of the neck up, which is fairly unusual, but does an excellent job of drawing attention to this V-shaped undercut. This is one style where you'll almost certainly have to enlist help from a friend…it'll take some serious braiding chops to pull this off on your own.
Man French Braids With Undercut Fade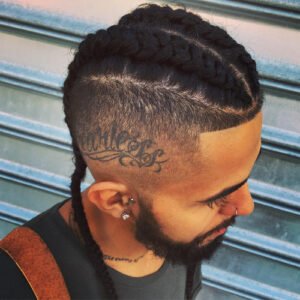 If you've got a full head of long hair, this might convince you to go for a faded undercut. An impressive contrast of techniques used for long and short hair, this man braids style features two long french braids over a skilful fade. These braids use the reverse french technique, allowing for lots of height and definition, while the bald fade starts high, and slowly disappears into the skin. If your hair isn't super long, this style still looks great with shorter braids. 
Men Undercut With Rope Braids
This undercut with longer hair on top has been pulled into an intricate system of rope braids that connect with each other, eventually being tied up at the back. It sounds complicated, but using several small elastics to keep the hair together takes some of the stress out of creating this man braids style. Since rope braids are created by wrapping two strands of hair around one another, they're easier to get the hang of than a french braid.
Alternating Sized Man Braid Cornrows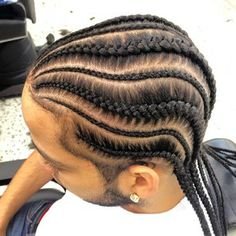 A new flair on classic cornrows, the varying sizes and wavy pattern of these braids create extra visual interest. When executed by a braiding professional, a style like this can last up to a month when properly maintained with spray-in conditioner, and by covering hair at night to prevent frizz.
Asymmetrical Man French Braids In A Bun
Have a little fun with shape by creating different sized braids that work at different angles on your head. You'll get points for originality along with all the benefits of a trendy updo that stays put all day.
Half Up French Braid Pigtails For Guys
French braids aren't only for men with an undercut. If you've got long hair all over, this is a fun way to add braids to your style without spending time braiding your entire head. Twin french braids run down the centre of the head, and are then secured with elastics to let the ends loosely fall into the rest of this long hair.
Fish Bone Man French Braids
Fish bone braids are created when small horizontal cornrows are directed towards larger braids that run down the head in traditional french braid style. This unique man braids style is a good option for natural hair that will fly away if you try to pull it straight into a larger french braid.
Single French Man Braid With Undercut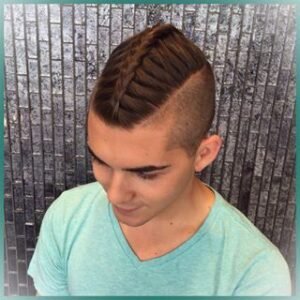 If you have an undercut with longer hair on top, a single french braid is also a stylish choice. While shorter hair can fit into multiple braids, you'll need a bit more length to get this look without frustrating flyaways that won't quite tuck into the braid.
Warrior Man Braids
Taking cues from several places in history, these braids align perfectly with modern flair. Twin french braids on either side of the head are gathered into a low bun, while the upper half of hair is loosely tied in a second bun overtop. Perfect for when you need to feel like a warrior.
Long Man Braid With Side Part
For men with ultra long hair, this simple three strand braid draped over one shoulder is a practical way to keep hair in place while exuding strong confidence. If your hair isn't nearly this long, don't worry, this braid works on hair as short as shoulder length.
Full French Man Braids On Long Hair
When Cary Fukunaga accepted the Emmy award for directing True Detective, his classic good looks and french braids made the internet go crazy. Two years later, it's clear his visionary work reaches beyond directing and cinematography. These french braids feature a side part, and are braided right down to the ends for a dashing formal look that is decidedly nontraditional.
Harry Styles Men Braids
Since the recent chop of his iconic locks that caused a manic reaction from some fans, this braided look likely won't be repeated by Harry for quite a while. French braids flank the sides of a messy bun, in a style that spawned adoring fan art, and huge internet buzz.
Long Fishtail Man Braid
One of the trendiest braids for women seems to be slowly making its way into the world of men's hairstyles. Admittedly, fishtail braids are harder to execute than your basic three strand braid, but they can add lots of interesting texture to your hair, and look great either when tightly braided, or pulled out to look loose and messy. The longer the hair the better, as short fishtails don't achieve the same merman effect.
Box Braid Bun Man Braids
Elevate your long box braids from your everyday look to a trendy bun. Long box braids look great on their own, but this style is practical for keeping long braids out of your way in hot weather, and makes for a more polished look on special occasions. This man braids style features a few subtle silver strands, but you can be as playful as you'd like when adding color to this style.
Braveheart Men Braid
This long hair and bushy beard are perfectly accentuated by a simple, three strand braid that instantly conjures visions of Mel Gibson wearing blue face paint. This is a very easy braid to do on your own, and if you're feeling extra robust you can add multiple similar braids throughout your hair.
Undercut Mullet With Braid
No one could ever accuse Shia LaBeouf of being boring, and this hairstyle is a perfect example. This intense style has a lot going on. The undercut, curly short hair on top, and long braid all contrast quite starkly with one another. This look is obviously not for everyone, but a run of the mill style simply wouldn't suit an artistic soul like Shia, and the hairstyle becomes another expression of his individuality.
[td_smart_list_end]
[td_block_ad_box spot_title="Advertisement" spot_id="custom_ad_3″]